The last two and half years, marked from the start of 2020 by the Covid-19 pandemic and from February this year by war in Ukraine, have seen unprecedented changes in Europe's wood furniture sector. The sector has passed through a period characterized by an initial but very short lived fall in demand in the second quarter of 2020, followed by rapid demand escalation at a time when material shortages and other logistical challenges greatly reduced availability.
During this relatively short period, major changes have occurred in patterns of supply and demand, trade flows, consumer preferences and working conditions, distribution channels, design, and fashion trends. Companies throughout the sector are having to evolve new strategies in response to a transformed world.
Recent trends in the value of production trade and consumption of wood furniture in the EU27+UK are shown in Chart 1. This highlights that wood furniture production and consumption was weakening in the years before the onset of the pandemic in response to sluggish growth of the EU27+UK economy and intense competition in global markets, particularly from Chinese manufacturers whose sales in the US market were being diverted elsewhere due to the trade dispute.
Due to the onset of the pandemic, there was an estimated 5% downturn in the euro value of EU27+UK wood furniture production and 4% decline in consumption. However this was followed in 2021 by an unexpectedly strong 12% and 15% rebound respectively in production and consumption.
According to CSIL, the Milan based furniture research organization, the last two years of the European furniture sector have been marked by a significant mismatch between supply and demand.
A sharp reduction in production of wood and other essential material inputs, severe logistical problems in international trade, rapidly rising freight rates, shortages of key staff, social distancing measures at manufacturing plants, and a big increase in energy prices all placed limits on production and supply.
This meant that, while furniture production and imports rebounded strongly in many European countries, they failed to keep pace with an even sharper increase in demand. The rise in demand was mainly due to a shift in consumer spending away from travel and leisure towards home-related product categories and to cater for new home offices with the rise in remote working. There was also resumption in export market growth in 2021.
The mismatch between demand and supply caused a general increase in furniture prices, initially at the manufacturing stage and partly absorbed by manufacturers, and then progressively transferred to final consumers.
Furniture sector performance varied widely between European countries. Eurostat data shows that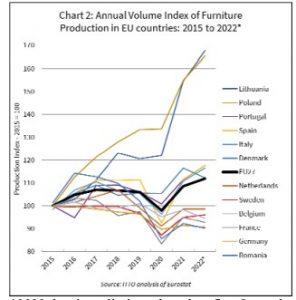 while overall EU27 furniture production had rebounded to pre-pandemic levels before the end of 2021, production was still below these levels in many countries including Germany, France, Sweden, and Romania. In contrast production in some countries, notably Poland and Lithuania, remained strong even during the first year of the pandemic in 2020, and continued to rise in 2021 and the first half of 2022 (Chart 2).
Looking forward, CSIL forecast that after the exceptional rebound in European furniture production in 2021, 2022 is expected to be another strong year on the demand side, although the rebound effect will slow compared to last year. This is partly due to reallocation of household spending back towards travel and other leisure activities.
High inflation and soaring furniture prices are also expected to have a dampening effect on down.
On the other hand purchasing in the commercial sector is expected to remain robust.