The upturn in EU imports of hardwood veneer which began in 2013 continued last year. The EU imported 542,000 cu.m of hardwood veneer from outside the region in 2016, 12% more than in 2015. Imports from the tropics increased 10% to 313,400 cu.m, exceeding 300,000 cu.m for the first time since 2011.
However, EU imports of tropical veneer are still well below volumes of over 400,000 cu.m per annum prevailing before the financial crises (Chart 1).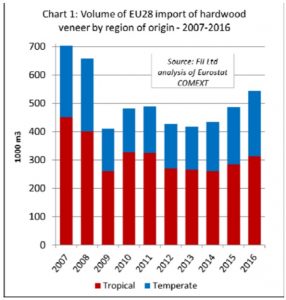 EU imports of veneer from temperate countries increased 14% to 228,900 cu.m in 2016, almost entirely due to a 39% rise in trade with Ukraine to 81,600 cu.m following the country's decision to implement a log export ban from November 2015 which encouraged increased exports of processed hardwood products from Ukraine in 2016.
EU imports of hardwood veneer from Gabon, the leading tropical supplier, ended the year 19% up compared to 2015 at 167,600 cu.m. This is due both to better consumption in the EU and to rising investment in veneer production capacity in Gabon, on-going ever since the country banned log exports in May 2010.
Strong growth in EU imports of Gabon veneer in the first half of 2016 was sufficient to offset a slowdown in the second half of the year when trade was disrupted during the dispute over Gabon's presidential election.
In 2016, there were also increases in EU veneer imports from Congo (+9% to 17,100 cu.m), Equatorial Guinea (+17% to 8,400 cu.m) and the Democratic Republic of Congo (+3% to 4213 cu.m). These gains offset a slight decline in imports from Côte d'Ivoire (-3% to 64,700 cu.m), Cameroon (-1% to
29,900 cu.m) and Ghana (-3.4% to 9,100 cu.m) (Chart 2).
Nearly all the largest EU markets for tropical veneer imported more in 2016. Imports increased into France (+16% to 135,000 cu.m), Italy (+2% to 68,500 cu.m), Spain (+15% to 41,600 cu.m), Greece (+22% to 20,000 cu.m), Germany (+3% to 14,500 cu.m), and Belgium (+62% to 11,300 cu.m). These gains offset a decline in imports by Romania (-36% to 9,400 cu.m) and the Netherlands (-1% to 6,800 cu.m).