Preliminary analysis of Eurostat data indicates that the European veneer market, which was in decline between 2010 and 2014, staged a partial recovery in 2015.
Total EU veneer consumption increased by 9% from 1.47 million cu.m in 2014 to 1.60 million cu.m in 2015. This rise was driven both by a 7% rise in domestic production, from 1.17 million cu.m to 1.25 million cu.m, and a 12% rise in imports from 448,000 cu.m to 500,000 cu.m (Chart 1).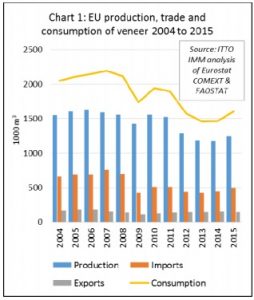 Slowly improving economic conditions in Europe have contributed to rising veneer consumption in key sectors, including veneered panels and flooring.
There are also encouraging signs that veneer manufacturers may be making more progress to regain share lost to non-wood alternatives in recent years through innovations in processing to further improve resource efficiency and to develop new products.
3-D veneers are now ell established in Europe and have extended real wood veneers into applications previously dominated by plastics. As larger industrial markets for standardised veneer products have declined, there has also been a strong emphasis on more flexible servicing of smaller customer specific requests.