The 42nd edition of CIFF Shanghai will be held at the National Exhibition & Convention Center (Shanghai), "NECC" Hongqiao from 10th to 13th September 2018 and will be conducted jointly by CFTE (China Foreign Trade Guangzhou Exhibition General Corporation) and Red Star Macalline.
Red Star Macalline is the undisputed leader in the Chinese furniture distribution sector. The Red Star Macalline has impressive statistics: bolstered by a domestic home furnishing market worth 4 trillion RMB, it manages 260 shopping centres scattered all over China, providing a total display surface area of more than 15 million square metres and annual sales of more than 78 billion RMB.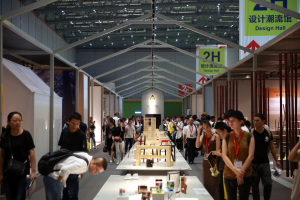 The records and figures of CIFF, the world's largest furniture exhibition covering a total annual surface area of 1.15 million square metres is proof of its leading market position.
This year's edition will tackle the topic of "an Example of the Global Home Life" and will be a real leap forward in terms of quality, services and events; the attendance of new high-end exhibitors, designers and major retailers from 29 provinces and 182 cities from all over China will help identify the real design trends in relation to consumer requests.
The Import & Design Hall and Trendy Furniture will feature an incredible display. As Chinese products are now ready to compete internationally, the two pavilions dedicated to imports and design will be combined, and will host companies of calibre such as Wei Mo, Kinetic Amber, Xiqi, Jade House, Glory Casa, Thomasville, Medea, Roche Bobois, Roberto Cavalli, Muuto, Lexington, Boconcept, ToninCasa, Rossini, La vie, Art De Vie and ELM Home.
At the pavilion dedicated to Trendy Furniture, visitors will be able to see brands such as: HC28, City.W, Roling, Artpeak, Juzhuo, Tesoro, Yupo, Western Art, Debrah, Beson, Zhongzhixin, LS, Apollo T, Jiudian, Heng Ju, HYO, Fuyuan, Youzun, Meiyaobang, Zhenzhimei and Fairytale, which will show the local design trends in both Chinese and non-Chinese in style.
Held in conjunction with the upcoming edition of CIFF Shanghai will be the first edition of the China International Furniture Machinery & Woodworking Machinery Fair (Shanghai). It is the outcome of the new partnership between CIFF and WMF, and will therefore cover the entire production chain of the sector, including all the main manufacturing technologies and processing machine types, wood-base panels and first-stage wood-processing equipment.
Numerous exhibitors will attend, the most significant of whom include: Homag, SCM Group, Weinig, Biesse, Jinan Restar, Nanxing, Foma Group, SWPM, Yalian, Siempelkamp, Wemhoener, LMT, Ruiwudi, Leke, Huajian, Yuantian, Lianrou, Hengkang, Fuyi and Xinqunli.
Now in its fourth edition, the EAST Design Show is unquestionably the essential Asian design promotion event, where the finest products take shape and amaze. The spirit of Asian artisanship is celebrated by the selection of leading companies and workshops. This year's theme is "Difference Makes Products Meaningful"; a fascinating topic which can never explored sufficiently and is still relevant in this time of globalisation.
Held in China since 2017, the Pinnacle Awards Asia-Pacific, promoted by CIFF, American Society of Furniture Designers (ASFD) and High Point Market, is the only international furniture and home-furnishing prize in the Asia-Pacific region. Part of the Pinnacle Awards, Pinnacle Awards Asia-Pacific and CIFF work together in order to improve quality and design in China and Asia as a whole. Many events are scheduled to take place during CIFF Shanghai, including the Pinnacle Awards Asia-Pacific 2018 ceremony, when the winners of the 16 competition categories will be announced, and awards will be given to selected works by internationally renowned designers.
CIFF Shanghai will also mark the debut of The C Foundation Forum, an event that will group together professional operators from various sectors, such as design, art, and culture, providing a stimulating platform where ideas can be discussed. Established in 2014 by 10 interior designers from China, Hong Kong and Taiwan, (Qiu Deguang, Lin Xueming, Liang Jinghua, Liang Zhitian, Liang Jianguo, Chen Yaoguang, Jiang Feng, Dai Kun, Sun Jianhua and Ju Bin), the C Foundation Forum is the first volunteer charitable design foundation in China. The C Foundation Forum has continuously developed the "Seek Innovation, Boost Entrepreneurship and Jointly Create a Better Future" project, thus contributing to the development of educational programmes in cultural art design, architecture and interior design.
Another important debut is that of the Design Dream Show, an event created jointly by Red Star Macalline and Innovation Design Alliance, with the aim of expressing the concepts and trends in contemporary home furnishing.
Two different events, but both symbolise the development of Chinese design, mirroring a world that is changing rapidly; the fact that they are being held at CIFF Shanghai demonstrates the influence exerted by this fair in the design, culture and media spheres.
CIFF, together with Shanghai Promotion Center for City of Design, is also planning to launch design events in the two creative cities par excellence, Shanghai and Milan, thus fully exploiting the cultural and creative resources of Shanghai.